Durfee Hot Springs
2798 S Elba Almo Rd
Malta, ID 83342
208-824-5701
Therapeutic Natural Hot Spring Pools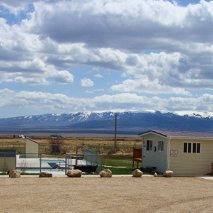 It doesn't get any more natural than this. The pools fill directly from untreated, naturally heated water. The hottest pools are filled first and as the water flows further to the large pool it cools to allow swimming. Very relaxing, and the water doesn't reek of sulphur like most hot springs. A must stop when you're in the area.
July 25, 2007 by Dr. Ross LLoyd in Layton, UT
Active and Adventure Expert Tips & Helpful Hints

* Each of the three pools ripple at a different temperature.
The largest is also the hottest, at about 106 degrees.
* Keep your clothes on at Durfee — the place is billed as a
DURFEE HOT SPRINGS

'Family Site', and this is conservative southern Idaho.
* There is an outdoor showerhead for dirty climbers who'd like to spray down.

The Durfee Hot Springs is not a luxurious affair, and that's what's nice about it. The Durfees (descendants of area pioneers) will greet you personally from a folding table in the driveway, then usher you to the backyard, where three cement pools heated by a nearby spring beckon. The kiddie pool is a small 10 by 30 feet; the largest, a roomy 50 by 54 feet. Expect to see the biggun' packed with climbers on Thursday, Friday, and Saturday nights—the proximity to City of Rocks makes Durfee a huge draw for rockhounds. And the Durfees love having them. For a couple of quarters, they'll even grab you an icy cold soda from the kitchen fridge.... Now that's service.
Durfee Hot Springs
Location: S Central Idaho
County: Twin Falls
Closest City: Almo
Phone: 208.824.5701
Season(s): Call for season and hours
Address: 2798 S Elba Almo Rd
Almo Idaho 83312

Directions: From I-84 eastbound, take Rupert/Declo exit.
Head south on 77. Travel through Declo, Albion, Elba.
Head south to Durfee Hot Springs from Elba.
Facilities: Large Swimming Pool
Quick Links
Restaurant & Inn
Shop
Community
Attractions
Reservations